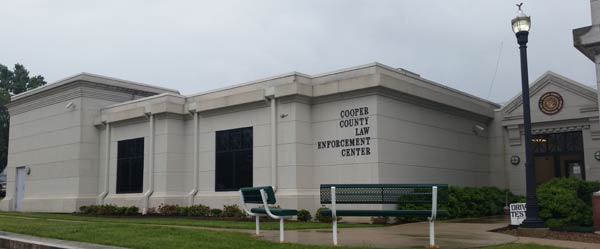 Administrator: Captain Brad Simmons
Capacity: 70 beds, Both male and female
Fees: $50 per day + medical costs
Current Facility Constructed 1999
INMATE VISITATION
Each inmate will be allowed one in-facility video visit per visiting day that must be scheduled 24 hours in advance. Visits will be limited to thirty minutes in length, but may be shortened due to visiting needs. Only one visit allowed no matter whether inmate takes the full thirty minutes or not. Circumstances in the operation of the Detention Facility may shorten or cancel visitation.
All VISITORS MUST PROVIDE POSITIVE IDENTIFICATION BEFORE VISITING.

ANYONE UNDER THE AGE OF 18 MUST BE ACCOMPANIED BY AN ADULT.

ONLY 1 VISITOR IS ALLOWED IN THE VISITATION WINDOW AT A TIME.
Visiting Hours are:

Saturday - Noon to 4:00p.m.
Sunday - Noon to 4:00p.m.
Co-defendants or persons incarcerated in the Cooper County Detention Center within the last 12 months are prohibited from visiting without prior written approval of the Sheriff or his designee. No one on probation or parole may visit unless prior written authorization is received from their supervising officer.
INMATE ACCOUNTS
Deposits to inmate accounts can be made by going to www.jailATM.com, for issues with the website call 1-866-933-6386. You will only need the inmate's name to make a deposit.

An inmate phone account can be set up by going to HTTPS://CUSTOMER.CIDNET.NET or by calling 1-888-984-1903.